Staffan Öberg (baritone saxophone)
Staffan started to play the tenor saxophone in the late 1950s and in 1961 he turned to the baritone saxophone that has since then been his main instrument. He played in several Umeå bands including orchestras led by Stig Söderberg and  Åke Burman. During 1963-1968 Staffan studied in Stockholm and although he did not play much he spent time enjoying live jazz att clubs such as Gyllene Cirkeln. Back in Umeå he worked as social worker 1969-1974  and then as lecturer at the Department of Social Work, Umeå University. In Umeå he resumed playing and joined Thor Egerbladh's octet. He has been member and shared the leadership of Sten Öberg's Gullin group since it started in 1978. From the 1970s Staffan has led a number of groups under his own name and the size and composition of the bands have varied over time. Three of the today's members in the nonet have played together for more than 50 years; his brother Sten Öberg, Lars-Göran Ulander and Eilert Thulin. Besides the nonet Staffan has played with Kvarken Big Band that recorded the CD "Drool" in 2002. Currently he is active the Umeå big band VAB and various symphonic and marching bands. Together with his wife Lena Staffan forms a song and jazz group. For many years he has been board member (1985-2005) and chair (2005-2010) of the Umeå jazz association Föreningen jazz. Staffan has the privilege to play with High Coast Jazz Orchestra in Härnösand with Dick Oatts and Bob Mintzer as guests and Staffan plays on the album "Together again" recorded in 2017. Staffan shares his interest in music with his two sons Magnus and Mats. Magnus is a drummer and and runs the record company Nomethod. Mats is a professional pianist and keyboardist.
Lars-Göran Ulander (alto saxophone)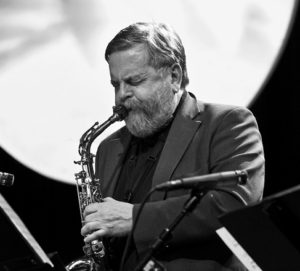 Lars-Göran Ulander was born in Sundsvall in 1943 and moved to Umeå in 1954. There he soon joined forces with Staffan Öberg who was part of a dynasty of jazz musicians. Today´s Staffan Öberg Nonet was more or less founded then. The group also included trumpeter Eilert Thulin who was already then a skillful arranger. Lars-Göran's musical breakthrough came in 1963 as a member of the renowned Lars Lystedt sextet on the album "Jazz Under the Midnight Sun". It was re-released in 2015 and the reviews are talking about a classic. In the Lystedt band he also began his long collaboration with Staffan´s older brother Sten. Lars Lystedt quintet won an international jazz competition in Zurich in 1967. By then Lars-Göran, since 1965 lived in Saxnäs in South Lappland working as a teacher and later school leader alongside the musical career in groups like the Lystedts quintet, Berndt Egerbladh quartet, Sten Öberg Quartet and Thor Egerbladh Octet. He also composed incidental music for Grottteatern in Umeå and Swedish Television. In 1975 he began a groundbreaking collaboration with the pianist Per Henrik Wallin and also had a trio with Sten and bassist Björn Alke. In 1976 Swedish television portrayed Lars-Göran in a TV-feature. The year of 1981 signifies a new start. He leaves his job as school leader and local politician to become music producer for Swedish Radio channel P2 in Umeå. The assignment was to produce everything from opera, chamber and symphony music to jazz and also more popular music for the channel P3. In parallel, he was the artistic director of the Umeå Jazz Festival for 6 years and music program director at the new Umeå Folkets Hus during the inaugural years 1986-87. In 1990 he became head of all the jazz music in Swedish Radio channels P2 and P3 and also responsible for the Swedish Radio Jazz Group, commissioned works, internal and external program production and collaborations with the European Broadcasting Union. In 2000 he started the festival Swedish Jazz Celebration in conjunction with Concerts Sweden, Swedish Music and SAMI and was one of the settlors of the Swedish Jazz Academy. Lars-Göran has all along been active as a musician both in Umeå in the company of Staffan och Sten Öberg and in different configurations with his wife Gerd Ulander and his sons. In 2005 Ayler Records released a CD with Lars-Göran Ulander Trio (bassist Palle Danielsson and drummer Paal Nilssen -Love) "Live at Glenn Miller Café" and 2007 "Collaborations" a collaboration with Canadian pianist Marilyn Crispell. Retiring from the Swedish Radio in 2010 he has worked as a producer for the Norrbotten Big Band 2012-2013 and now 2015-16 and have had more time for making music with different groups like Staffan Öberg Nonet and Gothenburg-based "Chimär. Also various projects as a duo with Gerd Ulander and the world famous classical Duo Gelland (violinists Martin and Cecilia Gelland). Including a contemporary art project with first performances of music by composers Erika Förare and Michael Forsman. Within the framework of Umeå 2014 Lars-Göran and Gerd composed the music for and starred as a musician in the touring dance project "Bröt" by  choreographer Åsa N. Åström. At the Umeå Jazz Festival 2014 Lars-Göran was soloist with the Norrland Opera Symphony Orchestra in Mats Gustafsson´s " Symphony 1". Currently and for the last four years he has had a close partnership with Danish drummer Kresten Osgood working both Denmark and Sweden.
Jens Marklund (tenor saxophone)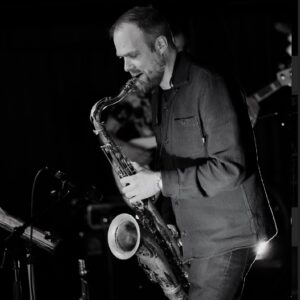 Eva Henriksson (trumpet and flugelhorn)
Eva grew up in Torsås, a quite small village in the southern part of Sweden. Torsås was gifted with an active municipal school of music. One of the reasons for this was the trumpet player and teacher Claes-Göran Bjerding who opened the door to the world of jazz for Eva. They played trumpet and  flugelhorn together and Eva was during her school time a member of Torsås big band. Sources of inspiration came quite soon to be Jan Allan, Miles Davis and Chet Baker for their lyrical sound and specific articulation. When Eva moved to Uppsala 1984 to study at the university of agriculture to be come landscape architect she joined the student big band Attraktionsorkestern. Like always Eva had also different temporary engagements in other musical contexts, including symphonic orchestras and soloist performances in churches. After graduating, Eva was employed by VAB, a consulting architect company in Umeå. She became their main landscape architect as well as the VA Big Band lead trumpet player. Over the years, Eva has had the privilege to also join the big band Lars Enmarks Stora Styrka, and in the summer of 2016 she played her trumpet in Lennart Ljungkvists Entertainment Orchestra. In 2014 Staffan invited Eva to become a part of his nonet.
Alf Burstedt (trumpet)
Alf has his roots in military music. He started as a music student in 1959 at the Västerbotten Regiment after a short time studying music at Framnäs Folkhögskola. During the 60s, the regiment music students were trained in various locations in Sweden such as Örebro, Linköping, Gothenburg and Stockholm. Between the courses it was naturally a lot of military music, but also symphonic music, big band and brass sextet. During this period Alf also played dance music with Stig Söderberg's septet and Umeå Big band. During the late 60s, Regionmusiken came into being, and Alf travelled the northern parts of Sweden, from Rundvik in the south to Karesuando in the north giving concerts at schools and other places. In the early 70s the Umeå Sinfonietta and what later would become the Norrlandsoperan were formed. There, Alf got to know the opera repertoire and then played in the Norrlandsoperan's symphony orchestra with many prominent musicians and conductors. He plays in VA Big Band and in 2019 he joined Staffan Öberg Nonet.
Mikael Elofsson (trombone)
Mikael was born in 1965 and grew up in Tenhult, a village outside Jönköping. At the age of 10 he started to play the trombone and joined several brass ensembles and symphonic bands. The interest in jazz grew and in the Per Brahe upper secondary school big band, Per-Åke Wennerberg Big Small Band and Jönköpings Läns Storband he got experience from playing with many great jazz musicians including Arne Domnerus, Putte Wickman, Ernie Wilkens, Mikael Råberg, Jan Allan, Georg Riedel and Bengt Hallberg. In 1984 Jönköpings Läns Storband recorded the LP "Stratusphunk" named after the title track composed by George Russel. During this time legendary trombone players like Kai Winding and J. J. Johnsson were sources of inspiration. In 1986 he moved to study at the Lund Institute of Technology and played bass and lead trombone in 'Round Midnight Big Band, an orchestra affiliated with the student organisation. The band engaged a number of guest artists such as Svante Thuresson, Clas Janson, Janne Schaffer, Nils Landgren and Anders Bergcrantz. During a short period he took lessons from the Malmö based trombone players Vincent Nilsson and Ola Åkerman. After obtaining a doctoral degree in chemistry in 1996 he moved to Yale University (New Haven, CT, USA) to do postdoctoral research. During  this period he had the privilege to play lead trombone in the Yale Jazz Ensemble. In 1999 Mikael was recruited to Umeå University were he now is a professor in organic chemistry. In Umeå he has played with several groups e.g. VA Big Band, LB Select, Mannolito and Kvarken Big Band that recorded the CD "Drool" in 2002. Currently he is active in Staffan Öberg Nonet, the big band Lars Enmarks Stora Styrka and Lennart Ljungkvist Entertainment Orchestra.
Thomas Olsson (piano)
Thomas grew up in Uppsala and following upper secondary school he began studies at Uppsala University. During this period he played piano with a number of jazz groups and big bands. He continued with studies in music at the college of music in Piteå. After completion of his studies Thomas moved to Umeå in the early 1980s. In Umeå he participated in the foundation of the upper secondary school arts program in music. He currently works at the Midgård upper secondary school were he is teacher in improvisation and jazz piano. In Umeå he early came in contact with the local jazz scene at Scharinska Villan that housed the jazz club. Since then he has played in many different constellations such as piano vocal duos, the fusion group Mr Peasley, traditional jazz with High Society, theatre groups, soul bands, jazz trios and also as bar pianist. He is active in the group Barytones, Band Blommé and his own group MOJazz. In Staffan Öberg Nonet he is pianist, arranger and composer.
Arne Eriksson (bass)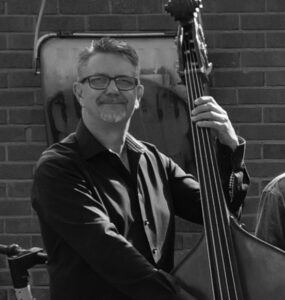 Arne was born in August 1965 and when he was ten years old, he started to play clarinet. Later he turned to the alto saxophone and played in a symphonic band together with amongst others Jonas Knutsson. In parallel, he played accordion and when he was fifteen, he was given an electric bass guitar which led to diligent practice. For many years, he played with Mats Öberg and Morgan Ågren and many other bands. He has participated in Rock-SM, played blues and dance music. He was a member in h the accordion player Söran Rydgren's quartet and for seven years he toured with another accordion player, Bengan Janson. In 2009, he and some friends started MIckes Combo that plays jazz, folk music and more. The same year he bought a contrabass and that has been his main instrument since then. In 2020 he joined Staffan Öberg Nonet as a permanent member.
Sten Öberg (drums)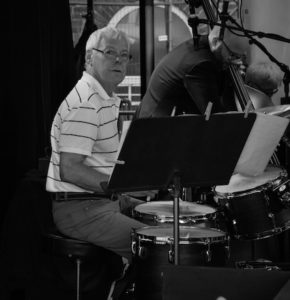 Sten bought his first drum set at the age of 14 and it has been his intrument since then. In 1975 he went to the Umeå valve trombone player Lars Lystedt and suggested that they should start a band. The result was a legendary  band that made an imprint also outside Umeå and Sweden. At the Zürich Jazz Festival in 1967 Sten was elected best European drummer and Lars Lystedt Quintet best European band. In 1978 Sten started his own group, Sten Öberg's Gullin Group, that is still active with the same mambers as the nonet. In Ljungby in 1996 Sten Öberg and Rulle Lindberg's Quartet received prizes at the Swedish championship in traditional jazz. Although Sten has never worked as a professional muscian he has had a long career and played with many international stars such as Bill Evans, Dexter Gordon, Stan Getz, Kenny Dorham, Toots Thilemans,  Svend Asmussen, Art Farmer, Red Mitchell, Artie Shepp, Niels-Henning Örstedt Pedersen,  Teddy Wilson and  Stuff Smith as well as muscians and vocalists of the Swedish jazz elite including Lars Gullin, Arne Domnerus, Putte Wickman, Åke Persson,  Berndt Rosengren , Bengt Hallberg, Jan Johansson, Georg Riedel, Jan Allan, Charlie Norman and Monica Zetterlund. The first Umeå Jazz Festival took place in 1968 and Sten played with Bernt Egerbladh's Trio and Sten has played at every festival since. His important role in the Umeå jazz life was acknowledged in 1997 when he was honorary guest at the festival. He is especially fond of his collaboration with piano player Bernt Egerbladh. Sten played drums on most vinyl and CD productions by Bernt including the first and last recordings. Currently Sten is active in Staffan Öberg Nonet, Rulle Lindberg's Quartet, Anna-Lena Kanon Band, Thomas Fischer Band, PO Moritz Barytones, Patina, Torgny Stigbrandt Quintet, and different constellations with John Ågren. Sten Öberg Special is annual event at the Umeå jazz club were Sten invites various soloists for musical encounters. Besides jazz Sten has a great interest in cars, watches, jazz vinyl and hunting.
---
Previous members
Sune Wiklund (bass)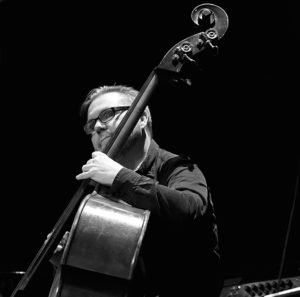 Sune grew up in Piteå, a small city in the north of Sweden and already at the age of 13 he formed his own band. A year later he joined a band with the lineup two trumpets, saxophone, B3 organ, guitar, bass and drums. He toured for ten years and during this period Sune began to arrange some tunes for the band. After education in music at Framnäs School of Music, he started to teach at the Piteå Music School. In 1979 he moved to Umeå and continued to teach at the School of Music and he soon joined several jazz bands including Lars Lystedt Band. He also had the opportunity to participate in Umeå Big Band Eleven. In 1984 the band had one week rehearsal together with saxophonist Frank Foster from Count Basie's Band and then they played at Umeå Jazz Festival. As a bonus we played one song together with Elwin Jones on drums! From 1985 to 1989 he did 90 live shows on Swedish Television in "Cafe´ Umeå". Many well-known musicians and vocalists including Jan Allan, Georg Riedel, Jan Malmsjö, LillBabs, Olle Holmqvist and Allan Edwall were guests in the show. During the 90s he played every Monday from September to May at "Rådhuskällaren" for three years. The sponsors, SAS and the hotel, allowed the band to invite and play with brass and wind players from Stockholm and other places e.g. Roffe Eriksson, Gustavo Bergalli, Bernt Rosengren and David Wilczewski. Many thanks goes to Jonas Knutsson and Andreas Pettersson who organized it all. From 2000 he joined several jazz bands including the Sten Öbergs Gullin Group, Staffan Öberg Octet later nonet, Lars Lystedt Band and other small constellations. Recently Sune formed the band Tre Tenorer consisting of three tenor saxophones fronting a piano trio. For this band Sune has arranged a large number of songs such as Four Brothers and Early Autumn.
Peter Lindqvist (tenor saxophone)
Peter studied music at the Malmö Academy of Music. He played in Monday Night Big Band and worked as a freelance saxophone and flute player in various constellations during 1984-1990. He then worked as jazz pedagogue the School of Music in Piteå from 1991 to 2002. During that period he also played in the saxophone group Wobbling Woodwinds that made appearances with like Ulf Johanson Werre, Lars Erstrand, Arne Dompan Domnérus, Jesper Thilo and Antti Sarpila. In Umeå he plays in several bands with for example  Lasse Lystedt, Birgit Lindberg, Sandström & Widding. He frequently plays at the jazz clubs along the Norrland coast.
Eilert Thulin (trumpet)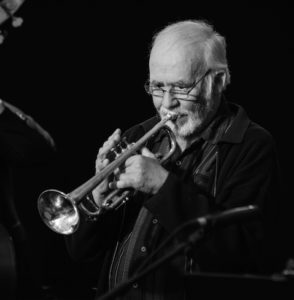 When Eilert, or Eje as he is best known as among friends, turned 17 he joined a dance orchestra led by the piano player Bernt Egerbladh. The band had a repertoire consisting of dance friendly jazz. Bernt gave a course in harmonics and after the course Eje together with Staffan Öberg recorded a session for Swedish Radio with the heading "promising young jazz musicians". After that Eje played in many dance bands with varying degree of jazz influences. In 1968 Umeå Big Band was formed and Eje joined the trumpet section. Then he moved to Gothenburg for engineering studies at Chalmers Institute of Technology and after obtaining his degree he worked abroad for many years. He never lost his interest in music and later he became a member of Sten Öberg's Gullin grupp in which also Staffan Öberg and Lars-Göran Ulander played. Prioritization of his professional career and focus on family and children led to a 25 year long break in his trumpet playing. Not long ago he was invited to a birthday party to celebrate Staffan and Lars-Göran. At the party different bands played and Eje again picked up his trumpet and played the old arrangements. This was the seed to a second career as trumpet player and arranger in Staffan Öberg Nonet. In his young days they were called promising and maybe this is still the case.
Petri Kivimäki (tenor saxophone)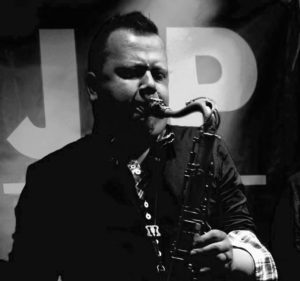 Henrik Blommé (tenor saxophone)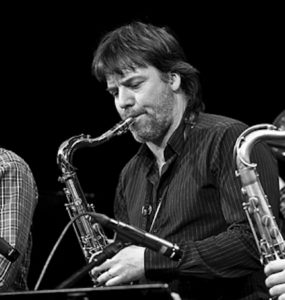 Henrik has been a free-lance musician since 1982 when he got his first payed job with Dicken Hedrenius. He still works on a free-lance basis although not full-time. Gugge Hedrenius has been his greatest influence and the musician Henrik has played the most with; from 1986 until Gugge passed away in 2009. Many prominent jazz musician including Hank Crawford (as), Bosse Broberg (trp), Claes Janson (voc), Hector Bingert (ts), and Dicken Hedrenius (trb) played in Gugge's bands. During a couple of years in the 90s he played in a small group together with Charlie Norman and Robert Wells. Henrik's grandfather actually played trumpet in Charlies's first band in Ludvika already in 1936. During 1982-1992 Henrik also played in in the big band of Nils Lindberg; then a youth band that later transformed into a professional orchestra. For many years Henrik played in Jonny Olsson's big band that took the role of house band in the few television channels in Sweden at that time (SVT1 SVT2, TV3 and TV4). In 2003 the album "Blue Big Sound" recorded in his own name earned place 37 for best Swedish jazz record in the poll by the Swedish jazz magazine Orkesterjournalen. Since the move to Umeå in 2010 Henrik has played with many local jazz musicians including Lars Lystedt and Anna-Lena Kanon. Together with his family he has formed a band with his wife Eva and daughter Frida on vocals and his son Emil on drums. The first line-up of the family band in 1993-1994 consisted of Esbjörn Svensson (pi) Backa-Hans Eriksson (b) and Eva (voc). Henrik has also played in more than five hundred musical shows in Stockholm and in Umeå he has also played in the symphony orchestra at Norrlandsoperan.
Jan Östlund (bass)
Jan grew up in Vindeln, a village outside Umeå. At 12 years old Jan started to play the electric bass after switching from the trumpet. After a couple years of studies at Framnäs Piteå School of Music studying for Hans Backenroth, Jan moved back to Umeå. Since then he has played in many different constellations and projects from duos to big bands like: Norrbotten Big Band, Anders Bergcrantz, Mattias Landeus, Mats Öberg, Carl Bagge among others. Currently Jan is playing with the piano trio Dogwill. Big influences during the years have been Ray Brown, Charlie Haden, Paul Chambers, Ron Carter and John Pattitucci.
Jenny Söderlind (trumpet)
Per Wretling (trumpet)