Our latest album Ornettish was recorded i August 2018. The album is a tribute to Ornette Coleman and includes several of his classic tunes as well as a new original composition by Lars-Göran Ulander. The album is available as CD and LP. Price: 80 SEK for the CD and 150 SEK for the LP. You get both and a free copy of our previous CD Fragments for 200 SEK. Prices include Swedish VAT. Please use the contact form to order the album and get information on payment and shipping. You can read more about the album on the text insert.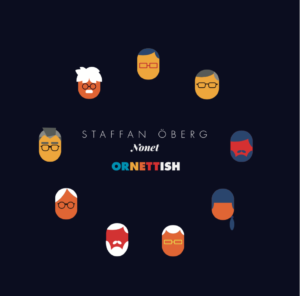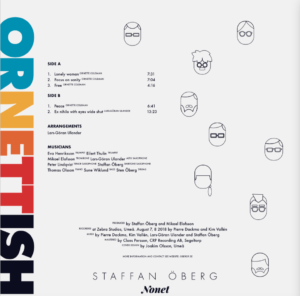 The CD Fragments recorded September 2016. Price: 60 SEK (inc. Swedish VAT and shipment within Sweden). Please use the contact form to order the CD and get information on payment and shipping outside Sweden. Press: "Ett riktigt mästarprov, som bevisar att det här är en orkester vi jazzälskare i Umeå ska vara stolta över. Årets julklapp!" (VF 161213). "Härlig lyssnarstund med den så sjudande sprudlande melodiskt attraktiva femtiotalsjazzen som grund." (Dig Jazz 170214). "Inledande Moanin' är alldeles strålande i arrangemang av pianisten Thomas Olsson." (OrkesterJournalen #2, 2017).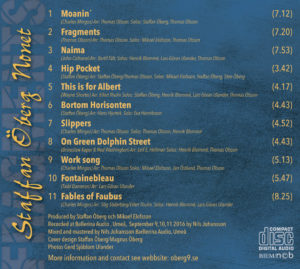 Bortom Horisonten/Beyond the Horizon (comp. S. Öberg, arr. H. Hjortek). Ballad with trumpet feature, recorded on the CD Fragments (track available under Music). Download parts and score (octet: as, ts, bar, trp, trb, pi, b, dr; no separate drum part).
The band poster designed by Joakim Olsson.